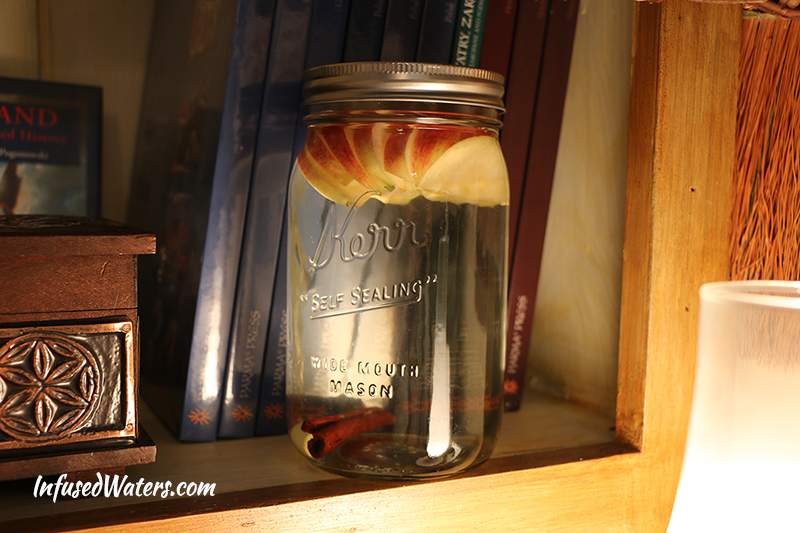 So satisfying and stimulating to the senses, this infused water recipe is very easy to make and requires a short infusion time. It's the perfect drink for those 65 degree days when you want something to warm you up inside, but don't feel like making hot tea. Cinnamon is also excellent for regulating blood sugar and improving alertness and concentration.
Recipe for a 32 oz Ball jar : 1/4 Gala (or red) organic apple, sliced thinly, + 1 cinnamon stick. Cover the ingredients with cold water, then put the mixture right into the fridge. Cold water and temperature is important to keep the apple slices from turning brown. Infuse for 4-24 hours (the longer, the better because apples do not infuse as readily as other fruits). Before you are ready to drink or serve the water, let it sit out at room temp for a half an hour. For this particular infusion, you'll get loads more flavor from room temperature water than cold water.
Another tip is to slice your apple thinly. Thin apple slices  provide the most surface area for juices and flavor to seep out into the water.
Oh, one more tip: when you drink the water about 2/3rds of the way down, refill with cold water and stick the Ball jar back in the fridge for a couple of hours. The second infusion will almost be as flavorful as the first.
If you are worried about the price of cinnamon sticks, you can buy them at Trader Joe's for $1.99 and you get about 10 sticks per jar. Not bad!