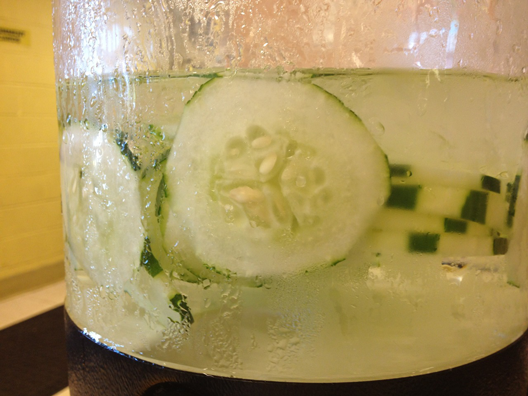 Cucumber infused water, plus it's incredibly easy to make! You can use regular cucumbers or English cucumbers – just make sure they are organic if you leave the rind on.
For visual appeal, you can cut away the cucumber rind in a pattern (pictured) or you can cut away the rind entirely. Unlike lemons and other fruits, the rind of a cucumber does not contribute a bitterness to the flavor of the water, so it's really up to you if you decide to leave the rind on or off.
Recipe for a 2.5-gallon Beverage Dispenser: 1/2 large cucumber, thinly sliced + filtered water (you can use a Brita Pitcher). Chill up to 12 hours for best flavor. There is no need to strain this water before serving. You can garnish each glass with a cucumber round on the rim. Enjoy!