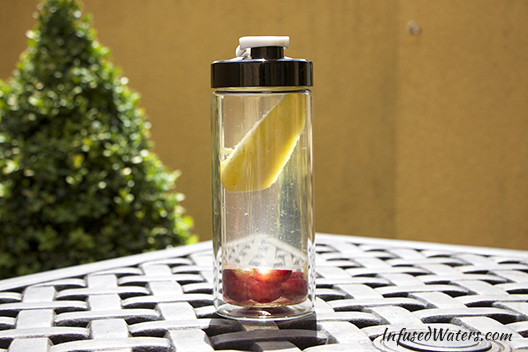 Meet your new favorite infused water for summer! I make this recipe 24 hours in advance and take the water with me on hot days. The taste is sweet (but not overly sweet) and the water is incredibly refreshing, especially when you drink it cold. Also, this infused water recipe has "wow" factor and is a great beverage to serve at parties and picnics.
Recipe for a 18 oz Glass Travel Mug:
6 organic red grapes, cut into half
1 pineapple spear (3″-4″ long)
Infuse in the refrigerator for 4 to 24 hours. Longer infusion times will result in a more potent flavor. Serve cold.
Because grapes are not as flavorful as the pineapple, you can use as many as you would like, but 6 works well for this size of container. Be sure to use organic grapes and to cut them in half so that their juices can escape. Bonus: the grapes are still tasty after being infused and you can eat them after you are have finished drinking your  water.
This recipe is easy to scale up. The key is to not use too much pineapple because it will dominate the flavor of the grapes. A good rule of thumb is to use 6-8 grapes for every wedge of pineapple.
I hope everyone is having a great summer and that this infused water makes it that much sweeter!