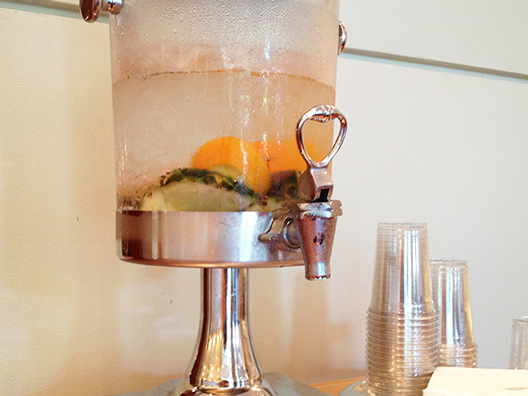 Offered to guests at the Sonesta Bayfront Hotel in Miami, this ice cold, infused water was the best thing that I have tasted in a long time. The water is served in a gorgeous Eastern Tabletop Two Gallon Dispenser. If you are serving infused water at a wedding or event, this stainless steel dispenser makes your water taste better just by looking so good!
Recipe for a 2-gallon dispenser: 1/2 pineapple, quartered + 1 orange, sliced with peel on. Fill with ice and water. For the best flavor, infuse for 2 hours before serving. And when the mixture runs down to the halfway point of the dispenser, simply fill with more ice and water. You can infuse up to three times.
Tip: be sure to layer your pineapple on the bottom of the dispenser. Pineapple is more solid than sliced orange, and will not clog your dispenser for this reason.
If you are making this infused water in a smaller container such as a water bottle, try using one pineapple spear + 1 thick orange slice, cut in half.
Enjoy this special water all summer long! It is so refreshing with ice. You'll love it.