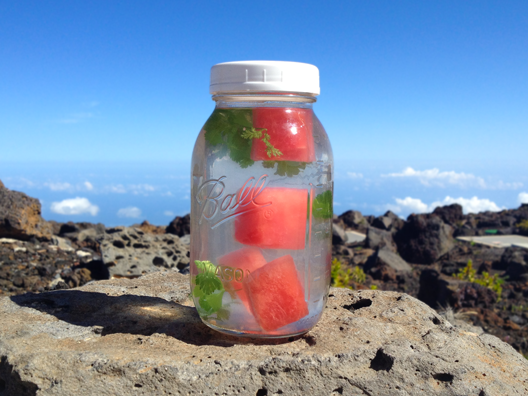 Watermelon is an excellent fruit for making infused waters as it releases flavor quickly and is very refreshing. The cilantro adds just a hint of herbal flavor. Delish!
Recipe for a 32-ounce Ball jar (with a plastic lid): 4 cubes fresh watermelon + 5-6 leaves cilantro. Tear the cilantro leaves in half to get the most flavor. Add purified water and chill in the fridge for 2-4 hours. Note: do not re-infuse this water or leave to sit too long as the water will become cloudy.
P.S. I had an amazing opportunity to visit Maui for a few days this week. These photos were taken from the top of Mt. Haleakala where I proudly hiked with my infused water.