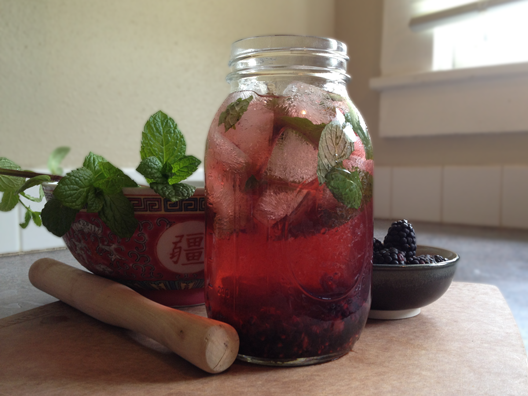 Because you muddle the blackberries for this recipe, their juices are released and you can enjoy the infusion almost immediately. To muddle (aka smash), you use a muddler or even just a wooden spoon.
Recipe for a 32-ounce ball jar: 10 blackberries, muddled + 10 mint leaves, torn. Muddle those blackberries into a pulp, add your mint, then add water.  Let the infused water sit for 5-10 minutes, then add ice and stir. It's the perfect drink for a hot day!
For the daring, you can also let the water infuse for four hours, then use it as a mixer for vodka drinks. It's unbearably delicious.
Also note how the mint is in a bowl in the background. Mint stays fresh in water, so if you pick a few stalks, you can put them in a bowl of cold water and the mint leaves will stay perky for up to three days. When you use mint in infused water recipes, tear each leaf in half to release its flavor.