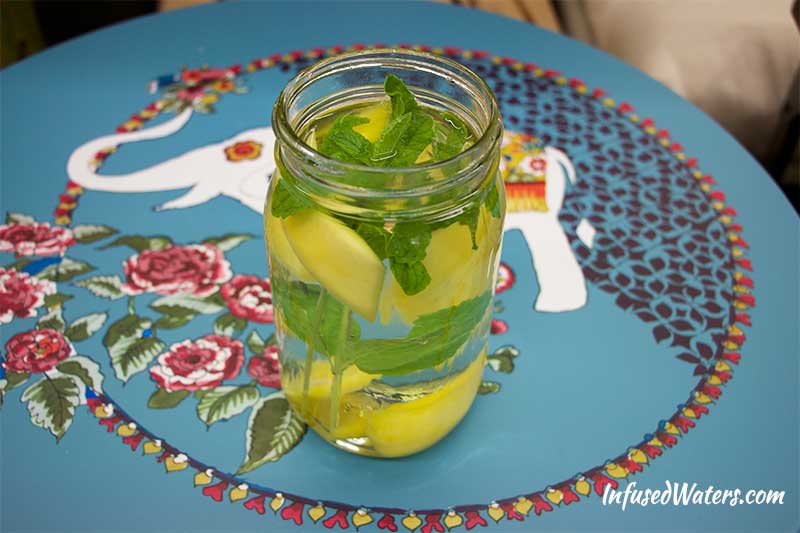 Can't always find a perfectly ripe mango? No problem! This water recipe uses a semi-firm mango infused at room temperature to quickly and effectively draw out the fruit's flavor. This thirst-quenching water is healthy, fast, and fresh: your new go-to drink for summer!
Recipe for a 32 oz Ball jar:
2 sprigs of fresh organic mint (or about 8 small leaves)
1/2 mango, with the skin cut off and divided into pieces (about 6)
Combine the mint and mango with water and let the infusion sit for 3-4 hours at room temperature. The warmer temperature helps the ingredients' flavors intensify more quickly. You can also infuse in your refrigerator for up to 12 hours. When ready to drink your mango mint masterpiece, simply stick a straw right into the jar and enjoy!
After infusing and drinking, you can try to eat the mango pieces. I found that the infusion process had made them softer than when I had started.
*Note: I've waited a long time to post a mango recipe because I always had trouble finding ripe mangos all the way up here in NW Oregon. However, after a couple of experiments, I learned that the delicious mango flavor is very much present in young mangos; they are just lacking that soft texture that makes them easy to chew. Of course, ripe mangos will have even more flavor, so use them if you can.