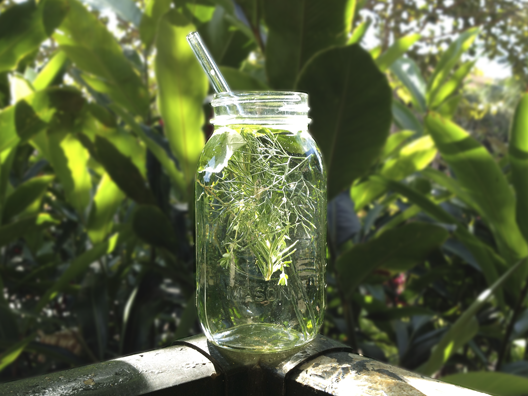 You don't need fruit to make your infused water sweet and tasty. Instead, try herbs! The best thing about this mixed herb water is that you can pick a variety of what's available in your garden and come up with a delicious infused water every time.
The trick to herb-infused water is threefold: 1) tear any fleshy leaves like mint or basil to release their oils, 2) let the water infuse for at least 6 hours, and 3) serve it cold! You also will want to go easy on the rosemary as it can dominate the flavor.
Recipe for a 32 oz Ball jar (pictured with an amazing Glass Dharma Straw): 3 leaves basil, torn, 1 small sprig of rosemary, 2 sprigs dill, 1 spring lemon thyme. You can also add mint, sage, lemon verbana, etc. Sky's the limit.
Infuse for 6+ hours in the fridge and enjoy with a straw or strained.
Herbs are also notoriously good for your skin and general health, so you can drink this infused water knowing that your tastebuds are just as happy as your healthy body 🙂