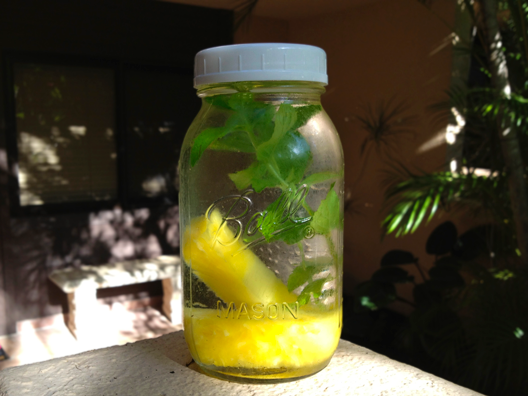 Mmmm, sweet pineapple and refreshing mint! You may not think these two flavors would go together, but they combine to form a delicious drink that will quench your thirst like nothing else on a hot summer day.
A couple tricks: it's best to infuse pineapple for 8-12 hours. Unlike melons that release their juices quickly, pineapple needs more time to infuse. Also, be sure to tear or crush the mint leaves to release their natural oils.
Recipe for a 32 ounceBall jar (pictured with plastic lid): 2 pineapple spears (approximately 1" x 4") + 1 sprig (6-8 leaves) of mint. Infuse in the refrigerator for 8 hours or overnight. Strain before serving and enjoy!